By Mike Parker
My wife and I found ourselves near San Francisco on family matters, and we had an extra day to explore and wondered what to do in San Francisco in one day.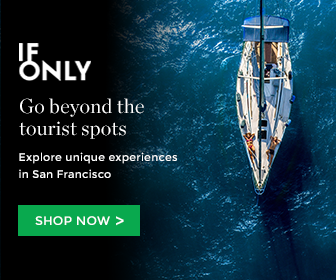 We have always had a car when we travel, but this time we were staying at a hotel near the airport and we decided to return the car the day before. Not knowing the city very well, it didn't seem wise to try and find a parking space and then have a rental car parked in a paid lot all day. And, the decision to return the car early allowed for a revised adventure. The new plan was to use San Francisco public transportation available to us.  We don't get the opportunity to explore without the security of our own wheels very often. So as they say, no guts no glory. We are determined to live life. So, with our yellow smiley face in tow, we headed off on our next adventure.
One day in San Francisco – Let the adventure begin
Most of the time when we travel, we do a lot of research online ahead of the trip so we know what to expect.  No matter where you explore, it is always a good idea to pack for the expected and the unexpected. We loaded up a small backpack with food, water and a few layers of clothes. Other items we took were maps, lip balm, sunscreen, flashlight, pocket knife and tissues…Always remember the tissues.
Our day of exploring was kind of a last-minute decision so we relied on a San Francisco Visitors Map we picked up in the lobby of our hotel.  After a good breakfast, we were off to catch a train. We knew we couldn't see the whole city in one day, but we were going to see as much as we could in the time that we had.
The train ride in San Francisco
We got directions from the hotel front desk to the location of the nearest BART station. Our first method of transportation were our feet! The BART station was approximately 12 blocks from the hotel. BART stands for the Bay Area Rapid Transit system and is a series of trains that run around the San Francisco bay area.  Because of the earthquakes that are known to frequent the area, I didn't think that the trains went underground. As we neared the station, I was looking for the tracks and couldn't see any. I was concerned that we hadn't followed the directions properly. Next thing you know, we're standing in front of the station. Guess what?  The BART system are subway trains running mostly underground.
Now we find ourselves trying to figure out how to get a ticket for the train; with many different options to choose from in the San Francisco subway vending machine ticket sales. Once we determined how to use the clipper card, and where to buy the clipper card, we bought the one day card that gave us the ability for unlimited travel for the day. Not only was the Clipper Card cost-efficient, but the card also allowed us to use any of the different transportation options available, which include the BART and Muni systems.  San Francisco's Muni system included the buses, streetcars and historic cable cars. That was when we decided to try and ride as many public transportation options to get around San Francisco during our day-long adventure.
Once we had our tickets and the BART map, we headed down the escalator to the subterranean train platform to catch our ride and embark on our newest adventure. We were staying in San Bruno where we picked up the BART and decided to get off the BART train at the Montgomery Street station and explore the downtown or Financial District area for a little while.
Welcome to San Francisco
The Financial District, home to San Francisco's Fortune 500 companies and many tall buildings, wasn't exactly a tourist destination, so we walked down towards the water.  We passed through the Embarcadero, which is a big plaza that was filled with vendors; food, drink and other treasures. As we walked through the marketplace, we checked out some of the goods.  We also knew if we bought anything, we would have to carry it around with us all day. Keeping that in mind helped us keep the load light.
We went across the street to the Ferry Building and Farmers Market; a big building that sits on the waterfront and is filled with people and food vendors.  Lots of hustle and bustle with great smells of all kinds of food in the air. We grabbed a snack, found a bench out back of the building and took in the great views of the bay. One of the most relaxing and beautiful stops on our San Francisco one-day tour.
Getting to Fisherman's Wharf
In front of the Ferry Building is where we caught the "F" line Streetcar that took us down to Fisherman's Wharf.  Fisherman's Wharf is one of the biggest and most famous tourist attractions in San Francisco with lots to see and do. It is almost a sensory overload with the smells of clam chowder filled sourdough bread bowls and Dungeness Crabs. There are many little shops to get your souvenir shopping done for friends and family back home.  If you enjoy wildlife, you have to check out the sea lions sunbathing on the boat docks. There is always something happening at Fisherman's Wharf with different monthly and annual events. For more information, check it out at https://fishermanswharf.org
Getting to Coit Tower
Because we have explored Fisherman's Wharf on previous trips, we decided to go up to Coit Tower to view the city from a different angle.  According to our trusty San Francisco public transportation map, we had to catch the number 39 Muni Metro Bus Line to get to Coit Tower.
Coit Tower is a 210-foot tall concrete tower that sits up on Telegraph Hill and has some of the best views of the whole San Francisco area.  We took the elevator up to the observation deck of Coit Tower, which offers 360° views of San Francisco's skyline including the Golden Gate Bridge.
The tower was built in 1933 with money bequeathed to the city from a very wealthy resident named Lillie Hitchcock Coit.  She donated the money in order to help beautify the city that she loved. From high atop the tower, Smiley poses for some cool shots. You can't beat the Coit Tower view!
Riding on a Cable Car
After Coit Tower, we decided to ride on one of the world-famous San Francisco Cable Cars.  We rode the 39 bus back down the hill to catch a streetcar to the cable car. The bus driver was amazing; slowing down just a bit to help us capture the picture we were trying so hard to get, pointing out other famous landmarks such as Lombard Street, the crookedest street in the world, answering questions about San Francisco and pointing us in the right direction to pick up the streetcar to the cable car.
We took another "F" line streetcar over towards Ghirardelli Square.  We walked a few blocks and wound up at the end of the Powell & Hyde Street Cable Car. There are three cable car routes to select from.  We chose this route because it would get us back near the BART Station for our ride back to the hotel.
Riding a historic cable car is a definite San Francisco thing to do. Because of all of the tourists that come to San Francisco and want to ride on the iconic cable cars, there was a line a block long. The experience was worth the wait.
Cable cars are strange contraptions that run by gripping large cables running under the ground that are moving at a constant 9 1/2 mile per hour.  They are loud, shake a lot and smell of burning breaks. The system is controlled by the "breakman" that engages and disengages the cable and applies the breaks.  As you ride down the very steep hills of San Francisco, you begin to appreciate his job. If you have never ridden on a cable car, you need to put it on your bucket list because it is quite an experience.
Face to face with a pickpocket
The cable car brought us to within a couple of blocks of the BART station, so we walked over and down into the tunnels.  As we got near the bottom of the escalator, I felt a very slight tug on the backpack I was carrying. I quickly turned around and was face to face with a young man that had a look on his face like he was just caught with his hand in the cookie jar.  He quickly pushed past me and jumped on a train that was departing.
Something didn't feel right. I took the backpack off to see if anything was missing. This particular backpack has lots of pockets with zippers and as it turns out he chose the pocket with the tissues. Remember the tissues?  The zipper was open and a few tissues were hanging out of the bag. It could have been a lot worse, but all he got was tissues.
Now I find myself standing on a crowded subway platform laughing out loud that I foiled a pickpocket with tissues.  Did you see how I just took credit for dumb luck?
Ok, it wasn't completely dumb luck.  We knew enough to pack some supplies for our adventure.  We knew enough to use a backpack that provided a pretty decent level of security for our important items. We knew enough to have both me and my wife carry some of our valuables.  And, I was aware of my surroundings and interactions with people around me. Pickpocketing can happen anywhere. It's one of the oldest crimes in the world. A good defense against a pickpocket is to be aware of the possibility, make it hard to get your valuables and provide an easily accessible, less valuable 'distraction' like tissues.
We had a fun ride back towards the hotel, reminiscing about all we had seen and done with one day in San Francisco.  On the ride, we decided to get an Uber from the BART station for the last 12 blocks of our journey.  It was dark, and we had already foiled a local bad guy and didn't want to press our luck.
Live life and explore when you can, it's fun.  I'm hoping that our little adventure exploring San Francisco in one day will inspire you to go have some adventures of your own.  Have you started your "bucket list" yet?